Voyages of discovery: MSY unveils striking new
Yx7 Explorer range
Michael Schmidt Yachtbau (MSY) in Germany has unveiled a new range of crossover sailing yachts that will enable people to discover their world in unprecedented safety and comfort.
The Yx7 Explorer range makes the most of its wide beam to ensure maximum comfort on extended voyages while retaining the ability for fast cruising is the hallmark of MSY's 'Y' series.
The mission of MSY is to offer sailing vessels that offer a unique blend of sophistication and simplicity, speed and user-comfort. The yard's Y7 and Y8 models have already raised the bar for fast cruising yachts and now MSY is launching a new crossover model, the Yx7 Explorer range. This new breed of explorer yachts is aimed at adventurous couples or owners with a small crew who are looking to head anywhere from the Tropics to the Arctic while still being able to rely on a considerable degree of comfort, living space and safety.
MSY has achieved this without compromising on the speed and good looks of the original Y series. The first version of the new range is the Yx7 Explorer 74, the result of some superb teamwork with the parties involved in MSY's recent build of a 72-foot research vessel for the Werner Siemens Foundation and Max Plank Institute for chemistry. Many new innovations and smart technical solutions out of this teamwork are now integrated in the MSY work flow. This clean vessel has been redesigned with Mark Tucker from Design Unlimited: the hull of the Yx7 Explorer 74 will be built in strong and relatively lightweight epoxy while owners can choose the colour. The wide stern and square-topped mainsail arrangement further ensure speed.
Comfort assured
In contrast to catamarans and powerboats, the majority of the deck is set aside as living space. The deck saloon is worthy of the name, with lots of seating and the option to open up the aft & side windows and roof to create the ultimate inside-out location. On the same level is an eight-seat cockpit with integrated bimini and a sliding side window option. The foredeck has an unprecedented amount of seating and sunbathing space.
More leisure options are available aft, where the key feature is the twin steering positions. Typically for the smart thinking behind the Yx7 Explorer's operations, all lines are brought back to the helmsman to facilitate short-handed sailing. In a similar vein, the yacht's displacement is relatively low so owners can enjoy easy sailing by themselves.
Interior comforts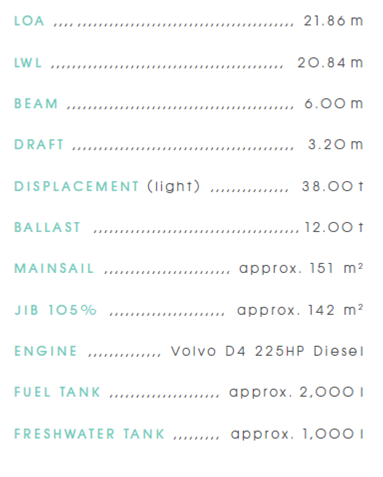 The interior style of the Yx7 Explorer 74 can be fully customised by the owners together with the experts from Design Unlimited, including a range of woods. Highlights include:
• Large deck saloon with inside steering position, chart table with navigation seat, electronics and engine controls. Dining area can be created using lightweight table with folding leaves, served by the bar.
• Full-beam owner's suite aft with large bathroom, lots of locker space, vanity table and desk. Dedicated companionway from cabin to cockpit via bespoke hatch.
• Wide range of layout options for guest accommodations. These include a cabin with a double bed and a cabin with bunks forward, adding a twin guest cabin further aft, using the forepeak for a VIP or dedicating this space to crew.
• Dinette with six-seat table and dedicated TV space. Connection with deck saloon maintained by keeping area above table open to port.
• Galley, large utility room for additional storage, freezers and sailing clothes..
Six large glass hull windows to port and starboard allow a considerable amount of natural light to flood the below deck spaces. Here as in every other respect, the Yx7 Explorer 74 showcases the unrivalled experience of those who have developed this beautiful boat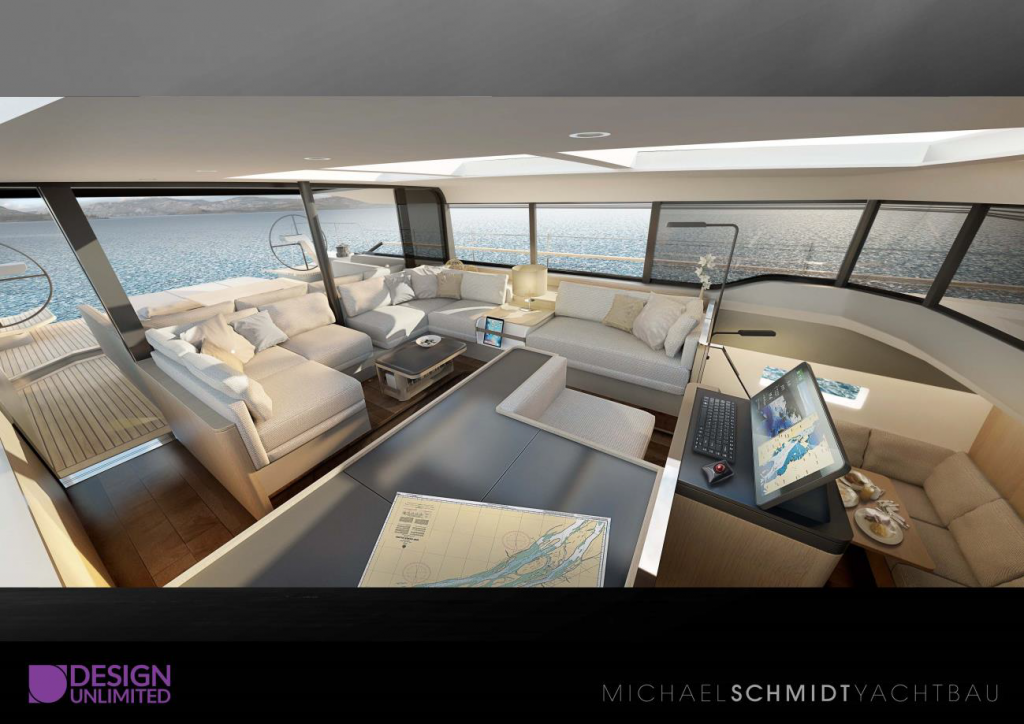 MICHAEL SCHMIDT YACHTBAU GmbH
Nordstraße 1 | 17493 Greifswald | Germany
www.msyachtbau.com