Falmouth celebrates the 50th anniversary
of Sir Robin Knox-Johnston's departure
at the start of the 1968 Sunday Times
Golden Globe Race.
Dateline Falmouth UK: 14th June 2018
Fifty years to the day after Sir Robin Knox-Johnston set out from Falmouth UK in his rugged 32ft yacht Suhaili to become the first man to sail solo non-stop around the Globe, the British master mariner returned to lead a celebratory parade of sail around the harbour. Watched by visitors on every headland, the 200-strong armada of sail criss-crossed between Falmouth and St Mawes before Sir Robin set up a start line between Suhaili and Sir Francis Chichester's equally famous yacht Gipsy Moth IV and fired the canon to set the 17-strong fleet of 2018 Golden Globe Race yachts on their way to Les Sables d'Olonne for the start of this 50th anniversary solo circumnavigation on Sunday July 1st.
The Suhaili Parade of Sail was the culmination of a 3-day festival involving Suhaili, Gipsy Moth IV, the replica fleet of Golden Globe Race yachts and vessels from around the UK and Europe which had gathered in Falmouth to honour Sir Robin Knox-Johnston's achievement in the original Sunday Times Golden Globe Race back in 1968/69.
The Mayor of Falmouth, Cllr Grenville Chappell said: "It's amazing to think it was 50 years ago – it seems only yesterday – that Falmouth welcomed Sir Robin Knox-Johnston back into port after his incredible and historic sailing achievement, one that captured the hearts and minds of millions of people around the world. His exploits then and subsequent, have inspired many across the UK and beyond to get out on the water, take up sailing or indeed undertake their own adventures. It certainly made an indelible mark on Falmouth's community and we are thrilled to see Sir Robin and his legendary yacht Suhaili back in town. We're delighted to be the host port for the Suhaili 50 Falmouth Parade of Sail jamboree. Our community has come together so well to assist, so a particular thank you to Falmouth Town Council, Falmouth BID, Falmouth Harbour Commissioners, Royal Cornwall Yacht Club, St Mawes Sailing Club and St Austell Brewery for their support."
Sir Robin Knox-Johnston said: "It is wonderful to be back in Falmouth and to receive such a warm welcome. Everyone has been very kind. This week's celebrations have brought back so many memories."
One of those memories is of a barometer, 'borrowed' off a pub wall before Sir Robin set out on his solo first which he used to monitor the changing weather conditions during his 312 day voyage. The original was later stolen from his yacht but Sir Robin returned with a replica of that faithful 'A Lovely day for a Guinness' branded barometer to present to the Chain Locker Pub where he stayed 50 years ago before his departure and on his return.
And to mark his return to this famous harbour-side hostelry, staff served Sir Robin with the same meal of steak and chips followed by lemon meringue pie he had ordered when he first returned to Falmouth on 22nd April 1969.
First of the 2018 Golden Globe Race yachts to cross the line at the start of the SITRaN Challenge race to Les Sables d'Olonne was Tapio Lehtinen's Finnish yacht Asterisk closely followed by 72-year old Jean-Luc Van Den Heede's French entry Matmut and the two bright orange painted entrants Mark Sinclair's Australian yacht Coconut and Istvan Koper's USA/Hungarian entry Puffin.
Palestinian skipper Nabil Amra, who has still to complete his 1,000 mile solo proving trial, set out later in the day and must sail a further 300 solo distance once he arrives at the French port in order to qualify for the Race.
The first boats are expected to finish in Les Sables d'Olonne, France late on Saturday.
Click here to download aerial footage of the Suhaili Parade of Sail – credit: 3deep Aerial
GGR Programme in Les Sables d'Olonne June 16 – July 1st
The GGR Race Village will open each day from 10:00am to 8:00pm and until 02:00 on Fridays and Saturdays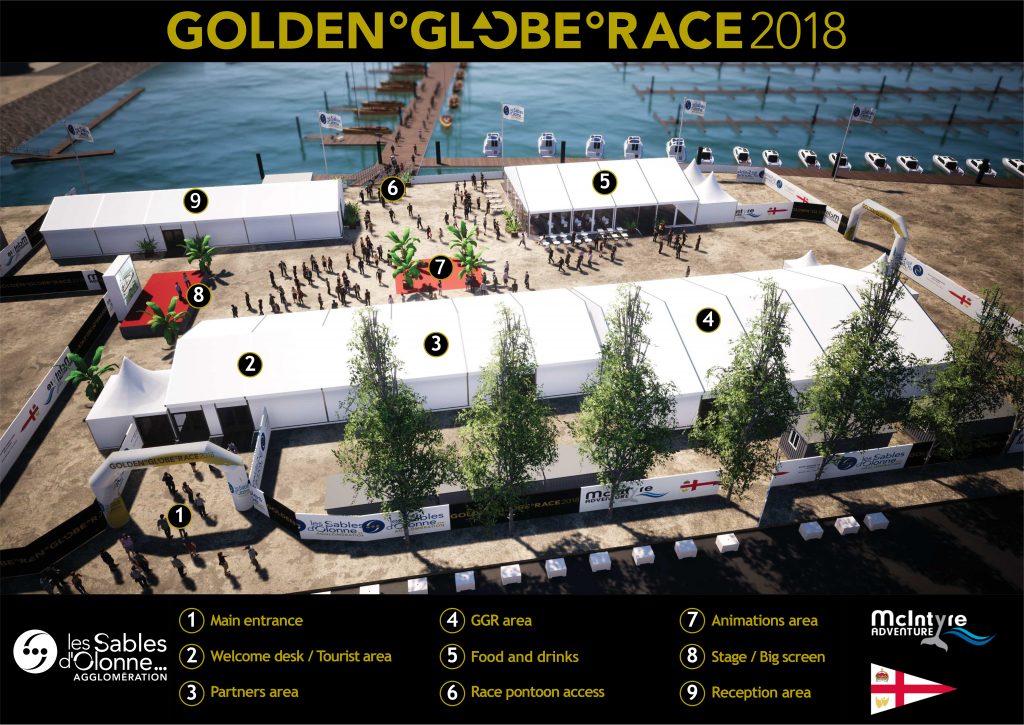 The GGR Village in Les Sables d'Olonne  open from June 16 – July 1
Visitors will find the GGR yachts and skippers on the Vendée Globe pontoons, and admire the historic solo yachts – Sir Robin Knox-Johnston's Suhaili, Bernard Moitessier's Joshua and Sir Francis Chichester's Gipsy Moth IV, together with Eric Tabarly's Pen Duick III and Pen Duick VI. There is something for all ages: Learn to navigate with the stars and instruments of the past, attend conferences, interviews and demonstrations, participate in workshops and boat baptisms, and the conviviality of the Bar Guinguette during evening concerts
The Race Village is open to the public from June 16 to 30, and is free of charge. Activities are planned each day and entertainment specifically for children will take place on:
Wednesdays 10:00 to 12:00 and 15:00 to 17:00
Saturday 10:00 to 12:00 and 14:30 to 17:30
Sundays 16:00 to 17:00
Click here for full programme of events
=================================================================================
Dateline Les Sables d'Olonne France: 18th June 2018
17 skippers arrive in Les Sables d'Olonne for start of the Golden Globe Race on July 1. One skipper still to arrive – by road!
The Golden Globe Race village in Les Sables d'Olonne opened with a bang over the weekend as 9,000 visitors welcomed 17 of the GGR skippers into town at the end the SITRaN Challenge Race from Falmouth, UK
The greatest applause was reserved for Sir Robin Knox-Johnston and his famous Suhaili yacht, winner of the first Golden Globe Race back in 1968/69, and first man to sail solo non-stop around the Globe. Hundreds gathered on the dockside all vying to catch his lines or eye, and thousands more cheered from vantage points around the marina. Suhaili was escorted the last 25 miles from Ile-d-Yeu by a fleet of yachts representing the French section of the Cruising Association.
"I expected a warm welcome, but nothing this big" said Sir Robin. Answering questions on the dock, he added: "The Golden Globe Race is a great adventure involving ordinary but very seaworthy boats and ordinary people who will grow to be quite extraordinary by the time they return to Les Sables d'Olonne. Mark my words, those who finish will become legends in their own right."
Asked if he felt a yearning to start with these skippers, the three-time circumnavigator smiled: "Yes – but 50 years ago!"
Did he have any pearls of wisdom to offer this new generation of global skippers? "Yes, my advice to these skippers is to look after your boat – and your boat will look after you."
Francesco Cappelletti, the 18th GGR skipper, set off from the South of France early this morning in the cab of a truck, towing his Endurance 35 007 across country to Les Sables d'Olonne. The Italian must arrive on Tuesday to attend a compulsory skipper briefing, then complete 3 days of solo trial sailing in order to join the fleet for the Race start on Sunday July 1st.
SITRaN Challenge Race from Falmouth to Les Sables d'Olonne
First to cross the finish line in the 300-mile SITRaN Challenge Race from Falmouth to Les Sables d'Olonne was Mark Slats' Dutch yacht Ohpen Maverick followed by French veteran circumnavigator Jean-Luc Van Den Heede' aboard Matmut. These two Rustler 36 yachts vied with each other all the way across the English Channel. Slats said at the finish. "It is good to see that Ohpen Maverick, which was the very first Rustler 36 to be built, is still competitive. We took up the lead half way across the English Channel and arrived in Ushant just in time to catch the last of the favourable tide. That helped us to extend our lead to 8 miles, but Jean-Luc came back at us near to the end to make it a close finish."
The aim of the SITRaN Challenge charity race was to finish as close as possible to 19:00 on Saturday. Skippers were allowed to use their engines, but had points added for every hour after the prescribed finish time and more for each hour they motored. These calculations catapulted Philippe Péché's PRB up from 7th finisher to 2nd overall one point ahead of Jean-Luc Van Den Heede to give the Rustler 36 entrants a clean sweep of the podium positions.
Results
1st Mark Slats (NED) Ohpen Maverick – Rustler 36, 12pts
2nd Philippe Péché (FRA) PRB – Rustler 36 19pts
3rd Jean-Luc Van Den Heede (FRA) Matmut – Rustler 36 20pts
4th Mark Sinclair (AUS) Coconut – Lello 34 26pts
5th equal Tapio Lehtinen (FIN) Asteria – Gaia 36 48pts
5th equal Nabil Amra (PAL) Liberty II – Biscay 36 48pts
Click here for full results