– 18/01/2022 –
THE DOMANI S32 LOUNGE IS ABOUT TO BE BORN!
Although we can't meet at BOOT this year, we still want to share some exciting news from our shipyard: a couple of weeks more and the DOMANI S32 Lounge, our brand new ultimate daysailor, will be ready for launch!
The new age of perfect daysailing is in the making, presenting following features: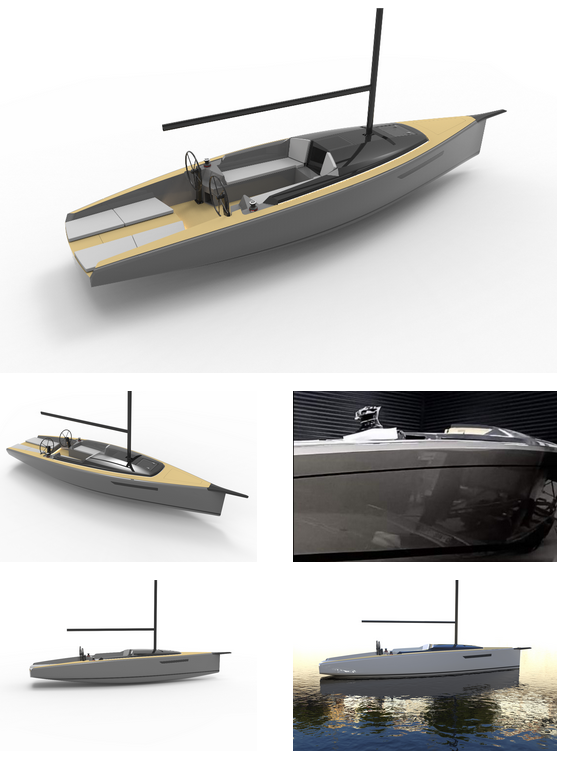 • Full vacuum infusion techniques used for ALL composite parts, a unique process used by DOMANI Yachts; less emission in production, better for the environment, less weight and more stiffness for the yachts. 
• Lifting keel option – push button (draft 1.22 – 2.00m) 
• Width limited for conventional berths at 2.5m 
• First 2ton ship with push button sail controls on the market. Full electric sail controls (sheets + traveler). Fingertip use panel designed in-house 
• All lines run invisibly under cover but on top of the deck, easily accessible, no intrusion in the interior, no risk of water leaks 
• Full led lighted deck for safe circulation and a unique recognizable appearance 
• Sun lounger on the aft decks for more comfort and an excellent view on the swimmers versus a flat sun deck 
• Integrated fold-out sturdy stainless steel swim ladder at stern, no aftermarket and frustrating installation 
• Controls for light and appliances fully digital & bus engineered 
• Only full E saildrives. DOMANI remains faithful to the zero-emission ambition.

Orders are taken now for delivery in the summer, or visit our shipyard in Drachten. Please contact us at info@domaniyachts.com.
TRANSFER OF THE CURRENT LINE OF E32 AND X26  E-MOTORBOATS TO JR YACHTS IN THE NETHERLANDS.
Due to growing demand and to further enhance and improve production and design, the DOMANI E32 and X26 full electric motorboats will be handed over to JR Yachts.
This way we are able to provide better service and more focus on future developments of both sailing and electric boats. 
Production will remain in the shipyard in Drachten.
Please contact info@jryachts.nl or visit the website at www.jryachts.nl.