– New release January 2021 – Photo © JM. Rieupeyrout/Grand Pavois –
– Update newsflash 24/03/2021 –

SAVE THE DATE:
INTERNATIONAL IN-WATER BOAT SHOW
GRAND PAVOIS LA ROCHELLE
– FROM TUESDAY 28 SEPTEMBER TO SUNDAY 3 OCTOBER 2021 –

Grand Pavois Organisation confirms the 2021 dates for Grand Pavois La Rochelle, which will take place from Tuesday 28 September to Sunday 3 October, 10 am to 7 pm.
Six days of exhibitions during which we expect to see 600 international brands, 600 boats over the 100,000 m2 of exhibition space, and 3 km of pontoons. The entire Grand Pavois Organisation team is working on this 49th edition and is determined to celebrate and ensure all the event's quality and conviviality in accordance with health measures that will be in force.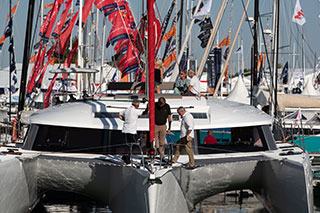 The thematic spaces, adapted to all tastes and passions, will again be present in 2021 with boats inwater and on land, the Equipment & Engines Space, the Multihull Space, La Plage (Boards Sports and Light Sailing Space), the Fishing Space and its Grand Pavois Fishing competition, the Heritage and Tradition Space, the Services and Tourism Space, and more, as well as many new features and events that we will reveal over the coming months! Note that Grand Pavois Organisation will not offer an exhibition hall, as decided in 2020, and will privilege villages and thematic spaces outdoors.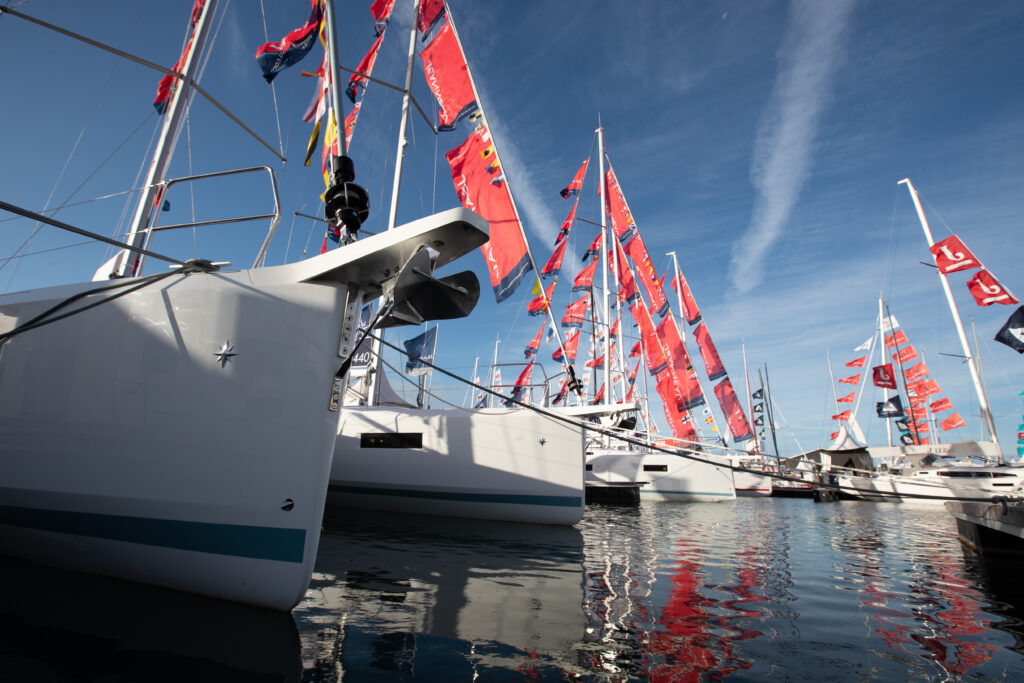 Alain Pochon (President of Grand Pavois Organisation): "First of all, I want to stress that, at present, the entire Board of Directors of Grand Pavois Organisation is seriously motivated and confident that the 49th edition of the Grand Pavois La Rochelle will be held. All the professionals that are part of our association recall the importance of the Grand Pavois La Rochelle being held in 2021, a major date for the entire water sports industry, during which they can present new boats and equipment, maintain contacts with customers, and above all, meet new ones. Therefore, we have officially launched the commercialisation of our 2021 event and guarantee that any down payments will be refunded in the event of a cancellation as a result of the pandemic, and confirm that the health measures in force will be applied scrupulously. We are very happy to officially announce this 49th edition at Port des Minimes in La Rochelle, where we can already reassure you that you will be able to benefit from the welcome, availability and professionalism of our entire organising team!".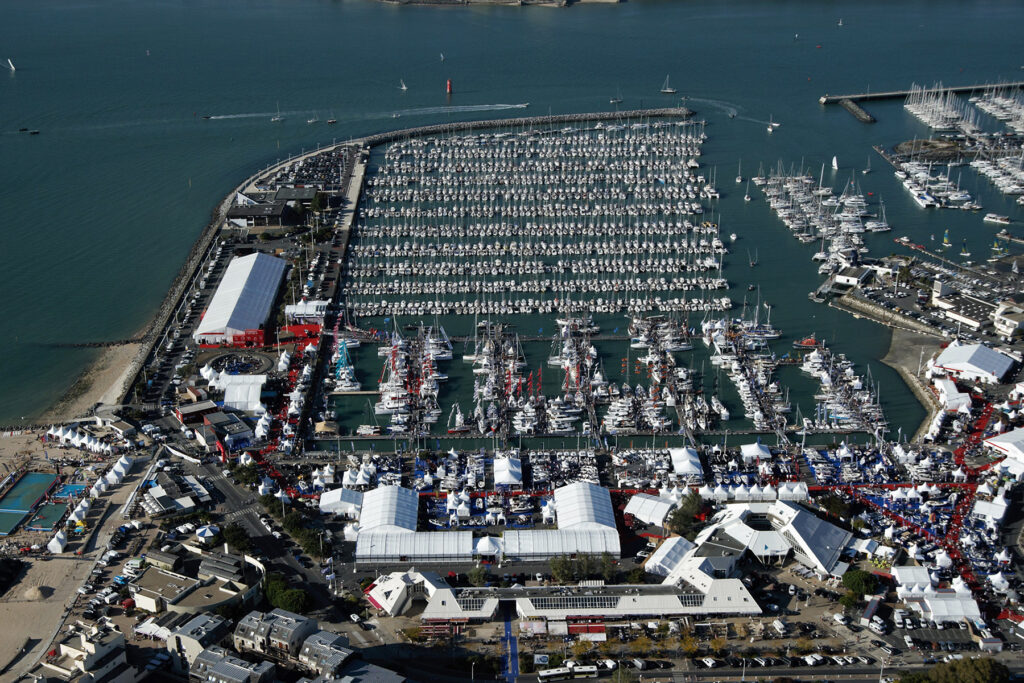 NEWSFLASH 24 MARCH 2021
"WE ARE CONFIDENT THAT OUR 49TH EDITION WILL TAKE PLACE!"
MAKE A NOTE OF THE DATES FOR THE GRAND PAVOIS LA ROCHELLE
FROM TUESDAY 28 SEPTEMBER TO SUNDAY 3 OCTOBER 2021
The Grand Pavois La Rochelle, via its organiser Grand Pavois Organisation, confirms that the 49th edition of the international in-waterboatshow will be held from Tuesday 28 September to Sunday 3 October.
Update on certain subjects and the planned procedures.
Questions/answers with Alain Pochon, President of Grand Pavois Organisation.
1/ What is the latest news about whether the Grand Pavois La Rochelle will be held?"The fact that the Grand Pavois La Rochelle is late this year (editor's note, it will be held from Tuesday 28 September to Sunday 3 October) is clearly an advantage compared to many other events. And if the vaccination campaign respects its commitments and schedule, by the end of September we should be at a reassuring level of vaccinated persons in France, which will allow us to prepare our event with greater peace of mind. Today, the Grand Pavois Organisation's Board of Directors (editor's note, comprising water sport professionals) and Iare confident that our 49th edition will take place.It goes without saying that this Grand Pavois La Rochelle is much awaited by all water sport professionals and, today, we can underline a good level of commitment among the professionals contacted. We are in advance with regard toour bookings schedule compared to the same time last yearwhich is reassuring. In the same way as in 2020, and, indeed, I would like to recall that we were the first boat show to do so! –the Board of Directors has again made the decision to reimburse all of the down payments paid for site fees and associated services in the event that we are required to cancel the event for sanitary reasons.Finally, of course, we will comply with all governmental and prefectural decisions and we will ensure that the sanitary measures imposed on us are applied. Finally, I wish to recall that we are an outdoor event covering an area of 60,000 sq m for the on land exhibition space and 100,000 sq m including the in-water area. Once again, we will favour the installation of outdoor tent villages so as to avoid enclosed spaces. In terms of its format, we will continue with 6 days, namely from Tuesday to Sunday, and the opening times remain unchanged, from 10 am to 7 pm."
2/ Currently, what measures areplanned at the show?"We are still awaiting the government'smeasures concerning events, but, as in 2020, we have already anticipated many of them. We have worked on protocols that we will clarify as the event approaches. However, we know that the situation relating to the COVID-19 pandemic is changing daily. We are impatient to see the government's sanitary measures and the authorisation's required for events in our category.Will a European health passport or a vaccination certificate be in force?Will we be required to request a PCR test to enter the show? Will we be able to offer rapid tests at the entrance? All these questions still remain unanswered, bearing in mind that,according to the government's promises, 30 million people should be vaccinated by summer 2021."
3/ Nevertheless, should we expect to see a different Grand Pavois La Rochelle?"The Grand Pavois La Rochelle is a key event in the programme of international in-water boat shows. We want it to remain so and we will do our utmost to ensure that it takes place in the best possible conditions. It may be slightly different from previous editions, with fewer activities for the general public in line with possible restriction measures, but it must remain a major event for water sport professionals and enthusiasts who come to see the next new products, refit their boats, discover new practices, and more.
This year, there will be a major focus on eco-responsibility, the correct behaviour to adopt, the products of tomorrow, the presentation of the port of the future, and more.
Thinking of the future is now the responsibility of all and the Grand Pavois wants to raise awareness of this fact among its public!
We will do everything to reassure our enthusiasts and ensure that the Grand Pavois is calm and of high-quality.
Today, it is essential for water sport professionals to be able to present their know-how, their products, their new features,and rebuild their prospects-clients lists again. Also, enthusiasts really want to be able to meet up, share their passion, exchange with others, make plans, touch things and try new products at sea. Remember, the Grand Pavois La Rochelle is also the launch pad for the year to come.
Thus, after this complicated year -since it is already almost a year since our first lockdown -professionals are going to have to focus on 2022 and try to make up for the difficulties experienced in 2020/2021.
This year, the Grand Pavois must serve asthis tool and provide the means for our water sports industry to prepare the coming year well and allow our enthusiasts to meet up in this spirit of conviviality for which we are known".
What you need to remember…
Name: The Grand Pavois La Rochelle, the show for real fans!
The venue: Port des Minimes in La Rochelle
The 2021 dates: Tuesday 28 September to Sunday 3 October from 10 am to 7 pm
Area: 100.000 m2
Exhibitors: 700 international brands the expected
Boats on show: 600 boats on show, including 300 in water expected
Number of visitors: 60,000 visitors expected